From a small take away in 1980, to Kent's favourite fish and chip shop today.
Only High Quality and Fresh Food
It all started over 40 years ago, when Ken & Nigel Derrett were both working in separate busy restaurants. Both had young families at the time, and were inspired to create a business out of their skills. They had a brilliant idea to start a premium fish and chips takeaway in their hometown of Ramsgate, in Kent. Newington Fish Bar was born.
We have been running Newington Fish Bar since 1980 and we have always looked upon this as a long-term venture so we were always looking for ways of improving our business.
The first few years we set about improving the shop's reputation and establishing it as the best Fish & Chips shop in the local area. In the years following, we opened a restaurant and grew beyond our wildest expectations.
We invite you to visit the Our History page to view a detailed timeline of our story. 
Helping The Local Community
Helping charities is an important way of giving something back to the community that supports us. Over the Newington Fish Bar's history, we have helped local football clubs and schools with their events. On occasions, we have held charity days in partnership with our local radio station.
Find out more about our charitable work below.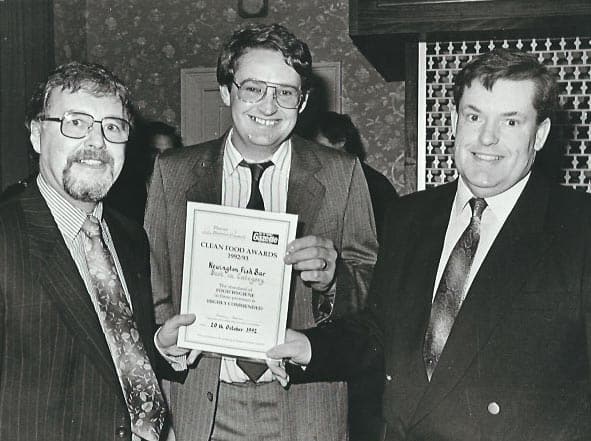 We were presented with the top food hygiene award in 1992 by Thanet District Council, and have received a gold standard ever since.
In 2002, we featured in the Top 100 Fish & Chip Shops in the UK by Tony Mudd, and have continued to receive recognition.
In 2005, The Independent newspaper places us at #1 in their survey for the Top 50 UK Fish Shops.
In 2009, we were the first shop in Kent to receive the prestigious Five Star Fish Fryers Quality Award, by Seafish, Now run by the National Federation of Fish Fryers.
See all awards below.
Order Now and Collect In Store
Order Your Fish & Chips Online