The Best in Kent
We are proud to announce that we have been named the best fish and chips shop in Kent, among the top two in the South East and London region, and Top 20 in the UK. Conducted by the National Fish & Chip Awards 2017.
Newington Fish Bar has been open for business in Ramsgate since 1980, and we have always strived to achieve great heights in this yearly award.
The award is just one of 15 categories in the 2018 National Fish & Chip Awards ? aptly known as the 'Oscars of the fish and chip industry.'
Judges made unannounced visits to shops all over the UK, to undertake full business audits, premises assessments and additional appraisal of the fish and chips on offer.
Shops competed to have their frying skills put to the test as well as being assessed against a variety of judging criteria, including menu development and innovation, sustainable sourcing policies, staff training processes and marketing activity.
We have worked hard recently to improve our online presence, by launching this new website in January 2017, and growing our Facebook page. This has enabled us to be up to date with current technology trends, while still serving the delicious fish and chips we are known for.
Due to marketing being one of the competition?s criteria?s, we believe our online presence played a part in our success. Therefore, we would like to extend a warm thank you to all who follow us on Facebook, and who visit our website.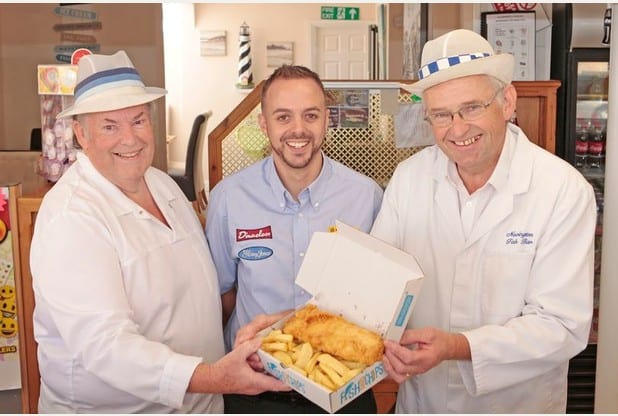 The competition was organised by Seafish, which is a Non-Departmental Public Body set up by the Fisheries Act 1981 to improve efficiency and raise standards across the seafood industry.
Marcus Coleman, Chief Executive at Seafish, said: "Our Fish and Chip Shop of the Year Award is the highest accolade for a fish and chip shop to win.
"This category is renowned for its fierce competition and our top 20 showcase the best talent that there is in the sector right now."
"As London and South East England's top shops go head-to-head to secure their place in the final, I'll look forward to seeing who fry's out on top."
We invite you to celebrate our success by popping into Newington Fish Bar, and sharing a bag of chips with us.
For sure, you will see us competing for the top stop in next year?s awards.